November 5, 2020 | 1:00 PM - 2:30 PM | Zoom Web Conference
What will be covered?
Our experience of ministry is so often fragmented, leaving us exhausted and disoriented. After diagnosing today's postmodern culture, Sacred Heart's newest professor, Dr. Donald Wallenfang, will introduce us to an approach to contemplative prayer suited to lay ecclesial ministers. He will recommend several spiritual and philosophical practices that will help us gather up the fragments of our lives.
Meet the Presenter
Dr. Donald Wallenfang | Professor of Theology/Philosophy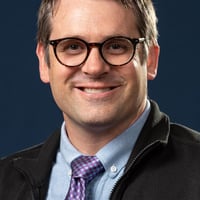 Dr. Wallenfang, OCDS, Emmanuel Mary of the Cross, is a Secular Discalced Carmelite, Professor of Theology and Philosophy, and Lay Formator in the Institute for Lay Ministry, at Sacred Heart Major Seminary. He received his M.T.S. from St Norbert College and his Ph.D. from Loyola University Chicago.

Wallenfang specializes in Catholic theology and philosophy, Carmelite spirituality, phenomenology and metaphysics. His research concentrates on the work of Edith Stein, Emmanuel Levinas, Paul Ricoeur, Jean-Luc Marion, the Carmelite saints, and the New Evangelization. He teaches courses in philosophy, theology, lay ecclesial ministry, evangelization, and Carmelite spirituality. His articles have appeared in Philosophy and Theology, Logos: A Journal of Catholic Thought and Culture, The International Journal of Religion in Spirituality and Society, Listening: Journal of Communication Ethics, Religion, and Culture, and Pacifica, as well as in other book compilations.
Before entering the world of academia, Wallenfang served in full-time Catholic youth ministry for nine years.