REGISTRATION IS NOW CLOSED
Please keep in touch for future Alpha Online programs. Thanks!
September 22, 2020 - December 1, 2020
Alpha is a series of sessions exploring the basics of the Christian faith. Run over 11 weeks, each session looks at a different question that people can have about faith and is designed to create conversation. Alpha is a safe, non-judgmental, friendly, and welcoming space to explore life's big questions together. Join us for an engaging talk and small group conversation. This version of Alpha is being offered online due to the Covid-19 pandemic. It is being sponsored by Sacred Heart Major Seminary in Detroit and will include the involvement of some seminarians as small group discussion animators.
To find out more about what

Alpha

is all about please view this video:
How is this course structured?
This FREE non-credit course is being offered online using the seminary's learning management system, Canvas. Upon signing up registration surveys will be reviewed, students will be personally contacted, and provided with details for accessing the course.
Alpha will be offered live via Zoom on Tuesday evenings (from 7:00 p.m. - 8:30 p.m.), beginning Sept. 22nd and includes one half-day Saturday session on Nov. 7th. The last session will be on Mon. Dec. 1st.
Note: Space is limited due to technical constraints and the number of seminarians we have on hand to animate discussion groups. We will contact you personally to let you know if your registration has been accepted or not. We wish to prioritize those who have been away from the practice of the faith and/or are searching for God in their lives.
Each module will include:
- Video
- Group Discussion
- Supplemental Reading Material
Contact: Fr. John Vandenakker
Meet your Host
Fr. John Vandenakker, (CC) STD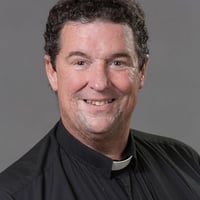 Fr. John Vandenakker will host our weekly retreat experience as we journey together to explore humanity's biggest questions of life, faith, and meaning.
Assistant Professor of Systematic Theology / Director of Graduate Pastoral Formation - Instructor Bio