Free Online Self-Paced Course
Sunday, November 27 - Saturday, December 24
Do you think being holy is impossible? Something reserved only for a select few?
Have you ever wished you had a "roadmap" for getting to heaven?
Or better yet, a shortcut to holiness?
In this short online course, Dr. Ralph Martin, Director of Programs in the New Evangelization, shows how achieving holiness is not only possible, but something each and every one of us is called to. He will present the stages of spiritual growth as lived out by some of the great spiritual masters of the Church: St. Teresa of Ávila, St. John of the Cross, St. Catherine of Siena, St. Bernard of Clairvaux, and St. Francis De Sales. Reflecting on their examples, the course will cover practical tips and advice for advancing in our journey to God. The curriculum is based on Dr. Martin's book The Fulfillment of All Desire: A Guidebook for the Journey to God Based on the Wisdom of the Saints
How is this course structured?
This FREE non-credit course is being offered online using the seminary's learning management system, Canvas. Upon signing up for the course, students will receive a username and password for accessing the online class.
The class will be conducted online giving students the freedom to engage with the material and complete course tasks around their own schedule. The class will consist of four modules which can be completed according to the individual's own pace.
Each module will be hosted by Dr. Ralph Martin, Professor of Theology and Director of Graduate Programs in the New Evangelization.
Each module will include:
- Lecture Video (~20 minutes)
- Lectio Divina Exercise (~10 minutes)
- Personal Assessment Quiz (~5 minutes)
- Supplemental Reading Material
The goal of the course is not to deliver a high level of rigor or stress, but instead engage Catholics who want to learn more about their faith.
Consider this an Advent study or retreat experience, done at your own pace. This is an opportunity to grow deeper in your relationship with the Lord and with others.
What will be covered?
Module 1: Holiness: Not an Option!
Module 2: Establishing a Solid Foundation
Module 3: Growing in Freedom
Module 4: Living in Freedom
presented by: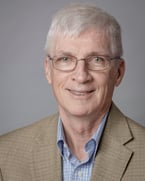 "John of the Cross makes the point that sensual attractions are so strong and so rooted in our nature that efforts of renunciation by themselves will not be totally successful. A greater attraction, a greater love has to inflame us in order to enable us to let go of lesser, disordered loves."
Register today or request information to learn more about the course and other offerings at Sacred Heart.