The Eucharist and Happiness:
Liturgical Evangelization in a (Sort of) Secular Age
Dr. Timothy O'Malley
THE EUCHARIST AND HAPPINESS
It is clear that Mass attendance is no longer a priority for many Catholics. The presumption in this apostolic age is that a new strategy is needed, and often disconnected from the Eucharistic rites of the Church. But what if this is the wrong approach? In this talk, Dr. O'Malley suggests that the Eucharist purposes a method for pursuing happiness in our (sort of) secular age. Such happiness is grounded in a way of remembering, presence, festivity and hope.
INTRODUCING THE SPEAKER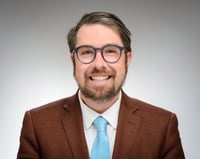 Timothy P. O'Malley, Professor of the Practice, is the Director of Education at the McGrath Institute for Church Life and Academic Director of the Notre Dame Center for Liturgy. He holds a concurrent appointment in the Department of Theology at the University of Notre Dame. He received his undergraduate degree at the University of Notre Dame majoring in theology and philosophy. His M.T.S. is in liturgical studies also from the University of Notre Dame. And he completed a doctorate at Boston College in theology and education, focusing on an Augustinian approach to liturgical formation. He researches and teaches at Notre Dame in the areas of liturgical-sacramental theology, marriage and family, Catholic higher education, catechesis, preaching, and spirituality. His teaching and research adapts Romano Guardini's approach to liturgical-sacramental formation in late modernity. He is the author of nine books on topics related to the liturgy, RCIA, the Eucharist, sacramental theology, marriage and family, and liturgical formation. Prof. O'Malley is presently working on two academic books, one related to Augustine and liturgical formation and the second on liturgy and the transformation of the social order.

IN THE HEART OF THE CHURCH
Sacred Heart Major Seminary's speaker series for lay ecclesial ministers, In the Heart of the Church, provides ongoing formation to men and women serving in ministry in the Archdiocese of Detroit and neighboring dioceses.
The program features presentations from exceptional Catholic leaders who are experts in their fields in an environment that fosters learning and table fellowship among peers in ministry. In the Heart of the Church takes place in person at Sacred Heart Major Seminary and includes lunch.
PAST EVENTS
In the Heart of the Church events have featured speakers such as Fr. Michael Schmitz, Sr. Miriam James Heidland, Dcn. Ralph Poyo, ValLimar Jansen, Fr. Don Archambault, Fr. Michael White, Tom Corcoran, Pete Burak, Patty Breen, Dr. Donald Wallenfang, Fr. Donald Calloway, and more.
---
Stay tuned for announcements of future speakers in this series
---