What will be covered?
St. Paul exhorts us: Keep your eyes fixed on Jesus. As disciples of Jesus we are invited to encounter Christ so deeply that the relationship with Him takes over our lives. All our actions to bring about social justice should naturally overflow from our encounter with Jesus Christ. These actions bring about encounters with Christ which are uniquely different from mystical, charismatic, and sacramental experiences and enhance our awareness of God's presence in our lives. Fr. Archambault will share life experiences from his thirty three years of being a pastor in an urban parish on how Catholic Social Teaching flows from scripture and can take flesh in our parishes and in our minds and hearts.
Meet the Presenter
Fr. Don Archambault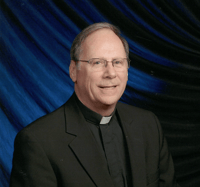 Fr. Don Archambault is the retired former pastor of Corpus Christi Parish in Detroit. Throughout his years of service, he played a key role in the founding of four community outreach efforts that have transformed the northwest Detroit community. Fr. Archambault was ordained a priest in 1970. He served at Corpus Christi Parish since 2006 and retired in July of 2019. Fr. Archambault seeks to know and understand those he serves in his ministry — not only to help them encounter Christ, but him to encounter Christ through them. He does so by being present, by rolling up his sleeves, by showing compassion, and simply by listening.