LEM Speaker Series
---
The Rosary: Spiritual Strength for our Times, with Fr. Donald Calloway, MIC
---
Thursday, November 10
12:00pm - 3:00pm
What will be covered?
When Our Lady gave the Holy Rosary to St. Dominic in the 13th century she informed him that it was a spiritual battering ram to be used (prayed) against heresy and falsehoods. Throughout the centuries, this great Marian prayer has proven itself to be a spiritual strength to all who pray it. As the author of five books on the Rosary, Fr. Calloway will present a history of the Rosary, the many victories it has won for souls, the wondrous miracles attributed to it, and the great saints and popes who have promoted it. In this talk, you will come to understand the Rosary like never before and how you too can transform your life in ministry with this wonderful devotion.
Meet the Presenter
Fr. Donald H. Calloway, MIC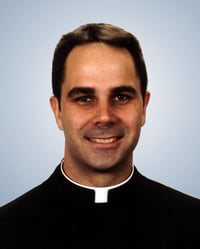 Fr. Donald H. Calloway, MIC is a priest devoted to Our Lady and devotion to the Holy Rosary. After a troubled youth, Fr. Calloway experienced a radical conversion. He devoted his life to Christ, eventually becoming a priest with the Marian Fathers of the Immaculate Conception, and earning an S.T.L. in Mariology from the International Marian Research Institute in Dayton, Ohio. He is the author of 15 books, including Champions of the Rosary: "The History and Heroes of a Spiritual Weapon" and "Consecration to St. Joseph: The Wonders of Our Spiritual Father."

IN THE HEART OF THE CHURCH
Sacred Heart Major Seminary's speaker series for lay ecclesial ministers, In the Heart of the Church, provides ongoing formation to men and women serving full-time or part-time in the Archdiocese of Detroit and neighboring dioceses.
The program features presentations from renowned Catholic leaders who are experts in their fields in an environment that fosters learning and fellowship among ministry peers. In the Heart of the Church is free of charge and includes lunch.
Online registration is now open. Spaces are limited. You are encouraged to register as early as possible. Gather together your parish leadership team and come along as a group! The event will be hosted at Sacred Heart Major Seminary.
PAST EVENTS
November 11, 2021 Fr. Don Archambault & Dr. Michael McCallion
November 5, 2020 Dr. Donald Wallenfang & Dr. Matthew Gerlach
November 8, 2018: Sr. Miriam James Heidland & Patty Breen
November 9, 2017: Fr. Michael Schmitz & Pete Burak
November 10, 2016: Fr. Michael White and Mr. Tom Corcoran
April 7, 2016: Dcn. Ralph Poyo
November 5, 2015: ValLimar Jansen